NEWS ITEMS:
Dateline Honolulu September 7, 2001
What a terrific tournament in LA our Club members (Tom Chu, Dan Takamatsu, Kenn Dunn and Kemp) had over the Labor Day weekend. Between them they brought home three finalists trophies.
Tom Chu did him self well in that he went to the Open Division Round of 16 where he lost to the number 7 seed, 6-2, 6-4. He is now and probably forever an Open singles participant.
Tom and Dan Takamatsu, on their way to the finals of the A Division Doubles won their first round match 6-1, 6-4; then beat the number 2 seed 6-3, 7-6; won over the number 3 seed 6-1, 6-2; and in the finals against the number 1 seed, lost in a tough fought match 6-7, 6-4, 7-5. Their road was tough but they ended up bringing home the finalist trophies. Congratulations!!!!!!
Ken Dunn teamed up with Ken Horgan from LA and had success on their march to the finals. In the first round they won 6-2, 6-3; beat the #2 seeds 3-6, 6-3, 6-1; then overwhelmed the #3 seeds 6-0, 6-4; and lost in the finals 6-4, 6-3. It was a great tournament for our man Kenn and we extend our congratulations to him.
The Aloha Tennis Club made an excellent showing in LA and once again showed that the level of tennis here in Honolulu is improving each tournament. Again Congratulations to the traveling members.

Date: July 23, 2001
The ATO 2002 Co-direcctors met with President H. Rivera and Treasurer Warren Wong to review progress in the initial planning stages for the 2002 tournament on July 22.
Planning is well along for the tournament. The site is firm (Hilton Turtle Bay) and many committee volunteers have stepped forward. There is still a need for more volunteers especially in the raffle, tournament program, special events, and other areas. Those interested in providing some time and effort should contact Eugene at eukini@hotmail.com or John at Atoopen2002@aol.com.
The Web site is being updated by Bong and it is expected that the Tournament Information and Entry Form will be available late September early October, 2001. Some new attractions/activities are being considered for the non-playing evenings of Friday and Saturday. If anyone has an idea for such an activity they should e-mail Butch or Dan T.
Look for more information about ATO 2002 on the Club website in future weeks.
---
Date: July, 2001 - San Diego Tournament
The draw and play is over, and the Aloha Tennis Club contingent came away from San Diego's Open 2001 with results to make the Club proud. In addition, the other participants in the tournament knew Hawaii exists, as our members provided vocal support to each contestant when playing.
The BIG EVENT was the winning of the C Division Singles Championship by Bong Canja. It was an exciting and pressure packed match and left all of us with sweaty palms. Bong was seeded #2 in a draw of 64. He breezed through his Bye (of course), then took on the field with skill and stamina. On his march to the championship he defeated Robert Braus from Santa Monica, CA, 6-4, 6-3; defeated Stephen Briggs from San Diego, 6-0, 6-3; Jeffery Comstock from West Hollywood, 6-1, 6-2; defeated Edmond Leung from LA, 6-1, 6-2 in the semi's. He then defeated Robert Cook from Playa Del Rey, 3-6, 6-3, 6-1. The finals was a hard fought match on a very hot and humid day. Congratulations to Bong for his efforts under tremendous pressure from the Hawaii cheering section. Maybe he will bring his trophy to the courts for all to see. ??Does this now move him into the B Division??? We sill see after the rankings are adjusted.
Another BIG EVENT was Sung Park's defeat of the #1 seed, Marc Walter in the round of 16. Sung got to the round of 16 by receiving a bye in the first round and then defeating Paul Shick, 6-0, 6-2. His win over Walter was 6-3, 7-6 in a very pressure packed match. Sung's top spin had everyone guessing. In the quarter final round Sung was unable to prevail and lost to Christ McAllister from San Clemente in a long and difficult match. The scores were 6-2, 7-6. He nearly pulled out the tie breaker but fatigue and sore toes reduced his mobility too much. CONGRATULATIONS Sung on a great tournament.
The rest of the contingent had a good tournament but did not get beyond the first or second rounds in singles and doubles. Kemp lost in the singles round of 16 in the Open division to Robert Plum, 6-4, 7-5; and in the doubles competition with his partner Marco Tarantino defeated Ramon and Waldron 6-3, 2-6, 6-4 in the first round and then lost to Lalias and Matias in the Quarters 6-1, 6-4.
Dan Takamatsu lost in the first round of the A singles, but with his partner Warren Leslie got to the quarterfinal round were they were defeated by Orr and Sam 6-2, 5-7, 6-2.
Bong and Jay Hong played doubles in the B Division. They got to the round of 16 by defeating Bergeen/Gulati 6-4, 6-1, but were defeated in the round of 16 by Gonzalez/Walters 6-4, 1-6, 7-5 in a very hard fought match.
John Steiger lost in the first round of C singles, and teamed up with John Kubisty for the C doubles. They got a bye in the first round seeded #2, but in a very entertaining and hard match went down to DeGrushe/Nugent 7-6, 5-7, 6-3.
All the Aloha Club members competed with everything they had, and conducted themselves in a very honest, courteous and sincere manner on and off the courts. The Club should be proud of them.
---
Date: July 3, 2001 - Gay Pride Parade - Hawaii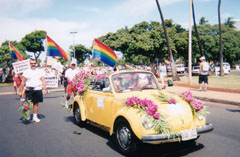 Well, the second year of the Hawai'i Pride Parade was a hit again for theAloha Tennis Club and for Hoku's effort as The organizer in making it a success. Again, the yellow convertible bug was cleaned, waxed and 'FDS to oblivion' to look it's freshest!!! Everyone asked, Where Did you get the bouganvillas? Yes, at the 11th hour from one of my friends, who's a straight guy. He came flying in from Aiea picking the purple bouganvillas in the morning to deliver it just before 8am. I had already weaved the ferns that I picked at Tantalus the day before.
When Charles and I got there, the other participants were already dressing their cars, trucks and floats, not to mentioned themselvs for that matter.---hah, It took me only about 1/2 hour to place 'n tie the ferns strategically on the bug with the top down. Thereafter, I stuck the bouganvillas in between the ferns to make it a total floral affair. I felt like a hairdresser for 'drag' cars.--hah, By that time, Herbie, Jerome and their neighbor, Lantz, arrived. Herbie and Jerome placed the 'Aloha Tennis Club' signs on all sides of the car and decorated them with the extra ferns an bouganvillas.
I then got three of my rackets out and weaved the ferns into the strings for the three of them to carry as part of their accessories in their quest to be the true 'Drill Team Divas'. ..AND THEY WERE!!!
The parade started and I pumped up the volume and we were ready to strut our stuff. We were 17th in line. When we made it onto Kalakaua, Herbie began to feel it. The disco sounds, the jubilant and response crowds in stragetic pocketed areas, he began to groove. Bump, bump, 'SERVE!'. Thump, thump, 'FOREHAND!'. Bump, bump,'BACKHAND!', Bump, thump, 'DROP SHOT!' Bump, bump, 'SERVE!!' Herbie had a routine and he was strutting and kicking his stuff to the beat of the sounds and the applause from the spectators. He was in rare form. Jerome and Lantz tried to, like back up singers to Diana', keep up but.... it's hard to outshine a DIVA.
As for Charles and I, we swayed and bounced in the car to the beat of the stereo pounding out the beats. Spectators were in love with Herbie and the vintage yellow covertible bug w/ green and purple accents. We even got people started swaying and dancing on the streets as we passed!!!
We had fun!!!
Herbie and I thought, 'hey, we should get some unabashed tennis buddies and REALLY have a drill team. Now, wouldn't that be grand?!! Any interested members?!
Well, that's for the parade. We had a blast. Hope you did too. ...and think about participating next year.
---
Home Page

Contact Us

Photo Gallery