p. 2

compensate for lack of competitive instinct. In fact, Jerry has become more competitive, thanks to an improving forehand. He is learning to step into his shots. At the same time, his flat serves have gained more sting and elicits errors now and then. his main challenge at this time is to perfect the backhand. "It tends to sail long and out." Yet, true to form, Jerry is working hard at it.

Nowadays, Jerry plays tennis just about
whenever he has a day off from
Hawaiian Airlines. A flight attendant
for 8 1/2 years, Jerry changed careers
after having been a florist for 25 years.
As a designer florist, he worked 60 hours per week. "When you work for yourself, it can become stressful." He is happy about his new career, which has afforded him trips to many exotic places such as Bali and Thailand. More importantly, he has more spare time to play tennis and socialize with friends.

In the upcoming ATO tournament, Jerry
will be helping out with the draw party,
taking pictures, and selling raffle tickets.
He is looking forward to having fun
socializing with his friends. As
determined to win as he is, he also wants
to be a team player, and will be teaming
with Lorin young in men's D doubles.
"We're ready to bring it on," he laughs.

Jerry concluded the interview by saying
how he appreciates everyone who has
"welcomed me into the [tennis] group
from the beginning." We are certainly
privileged to have you, Jerry, as our
Player-in-the-Spotlight!!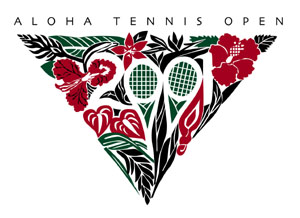 THE ALOHA TENNIS OPEN 2001
The ATO CO-tournament directors and
committee chairmen have been very busy getting everything set for the ATO 2001 tournament which will be held February 16-18, 2001 at the Hilton Turtle Bay Golf and Tennis Resort.
As of this writing there are already 64
entries (the limit for the entries is 96)
with quite a number of communications
advising either entry forms are in the
mail or about to be sent.. A re-allocation to the Divisions has been made to accommodate the early entries.

"A" division has been increased from 16 to 28 and is almost filled. The other division entry limits are now as follows:

Open-8; "B"dvision-26; "C" division-26,

"D" division-8. Further modifications
may be made depending on the receipt of entries for each division.

There is still a lot of work remaining to
make this tournament the "Best Ever".
Anyone wishing to provide assistance in
any of the following areas should contact
the following people responsible for the
area of activity:

Banquet- Warren Wong; sponsors- any
committee member; Courts-John Steiger; Entry Forms-Eugene Alexander;
Volunteers- Herbie Rivera; Trophies-
Mike Formby and Bong Canja; Draw
Party- Hoku Akiu and John Steiger;
T-shirts- Warren Wong and Jon Orque;
Logo and Banner- Jon Orque; Player
Packets- all committee members; Tennis
Balls- Bong Canja and Mike Formby;
ATO 2001 Database and drawsheets-
Herbie Rivera and Jerome Sajulan; ATO
2001 Website- Bong Canja; Tournament Tags- Frank Beudet; First Aid Station- Michael Frye..

All committee members and volunteers
should be thanked for the time being
expended on the tournament
preparations.
---
Fiona Henry's "Court" of Justice
Q. Once I hit a shot from the sideline,
and the ball traveled below the level of
the net but landed inside the singles line.
My opponent said the shot was no good,
and I lost the point. Was she correct?
A. Girl, you got jipped!! I saw Jimmy
Connors hit the same shot against
Adriano Panatta at the U. S. Open, and
he won the point. And THAT was a
professional match!! Your opponent was wrong about your shot.
Q. If I don't have enough money to
travel and be a circuit tennis queen, are
there local tournaments here in Hawaii
for me to enter??


A. But of course! Go and check with
our local USTA, and ask them to give
you a list of tournaments for various
levels of singles, doubles, and mixed.
And the competition is good, too!!
---
BE A GOOD SPORT: AVOID
INJURY
Unfortunately, sports are often
accompanied by injury. Common
problems include pulled muscles, torn
ligaments and over-stretched tendons.
To help prevent injury, follow these
steps:
--Warm up ant then stretch for five to
10 minutes before exercising. Cool down with a five to ten minute walk when you're finished.
--Don't be stubborn--stop playing if
you feel pain in your muscles or joints.
--Wear properly-fitting shoes and
socks and appropriate safety gear,
If you get injured, remember to follow
REST: rest, ice, compression and
elevation.
By using your head as well as your body, you can have fun, get a good workout and avoid injury.
---
GROWING OLDER ??????
Top 10 Super Anti-Aging Fruits and
Veggies. Almost any fruit or vegetable
will bring you antioxidant power.
However, here are the top 10
superpowers--avocado, berries, broccoli, cabbage, carrots, citrus fruits, grapes, onions, spinach, tomatoes. Plus, garlic is another super anti-aging food that you can take in pill form, and still have people get close to you!!!! Important to most of us--right??